Tips to Visit Menaggio in Lake Como, Italy
The charming village of Menaggio is located in the centre of Lake Como, opposite Bellagio, near the bifurcation of the two Lake Como branches. It is situated close to Bellagio, Varenna, and Tremezzo, with the famous Villa Carlotta and Lake Lugano. This position makes Menaggio an ideal starting point to discover Lake Como.
Is Menaggio worth visiting?
Menaggio's population is 3,107, and it's one of Lake Como's most visited and popular destinations. Together with Bellagio and Varenna, it forms the triangle area, probably the most animated of the Lario, which always attracts many tourists worldwide. Moreover, this is the most scenically beautiful and elegant area for the settlement of numerous period villas, some private, others open to the public. Splendid gardens crown these magnificent, noble residences. 
Menaggio's beauty and mild climate made it a popular destination for over a century. So it can be seen from the beautiful previous Maisons of the aristocrats of the past periods, like Villa Vigoni, Villa D'Azeglio, Villa Belfaggio, and Villa Govone, that have sprung up in the residential area of Loveno.
Menaggio is well connected to all the lake towns by boats and hydrofoils, with a ferry terminal just a short walk from the Grand Hotel Menaggio.
Things to do in Menaggio, Lake Como
Menaggio has many things to offer to visitors. Starting from the lovely lakefront promenade with its bars and gelaterias, charming local artisanal stores, and boutiques. It provides numerous options for magnificent mountainous hiking routes and pleasant refuges for lunch.
Thought, Menaggio's promenade, which provides a breathtaking view of the lake's centre and the mountains in the area, is unquestionably its best feature. You can see Bellagio's silhouette and the Grigne Mountain from here.
Menaggio Lake Como Hotels. Where to stay in Menaggio?
Menaggio offers many options for a stay, from 5 and 4-stars hotels to Airbnb apartments. For example, the recently reopened Grand Hotel Victoria Concept & Spa is a timeless and charming property that combines history, Italian comfort, and modernity. 
Nobiallum B&B is a good option for visitors searching for genuine Italian family hospitality.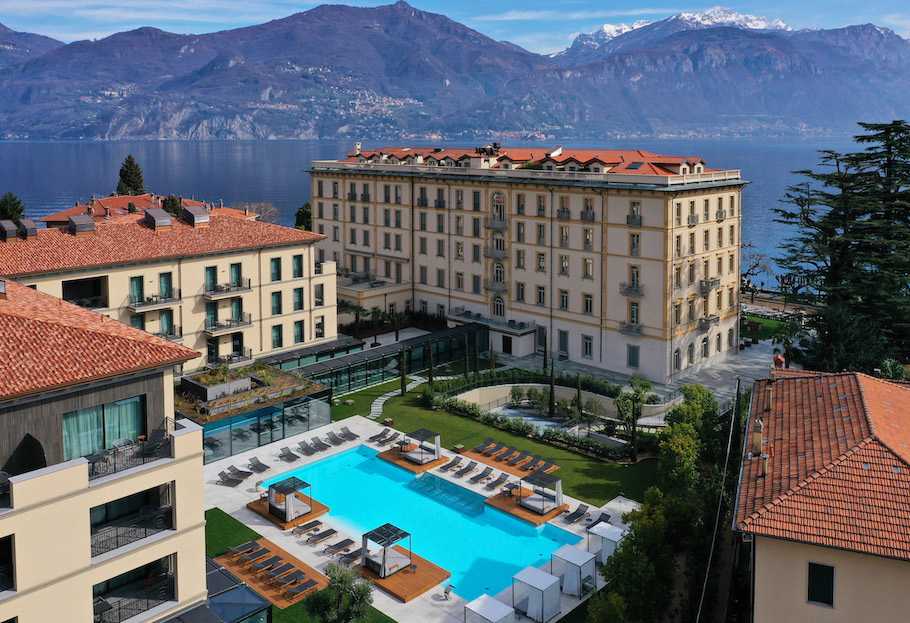 Menaggio Lake Como restaurants 
In Menaggio's restaurants, you can taste the most famous foods from various parts of Italy and abroad. You can find spaghetti, ravioli, fish, pizza, sausages, and also Japanese food. We recommend trying Ristorante Di Paolo. Ristorante Di Paolo's dining room blends various styles from different eras tending towards elegance. At the same time, the restaurant's outdoor terrace offers an outstanding possibility to enjoy a meal while relishing the view of the lake.
Pizzeria Lugano is one of the most popular pizza places in Menaggio. Another famous restaurant in Menaggio is La Grolla. This restaurant has a large terrace with beautiful lake views; the menu offers the specialities of Lake Como and Valtellina.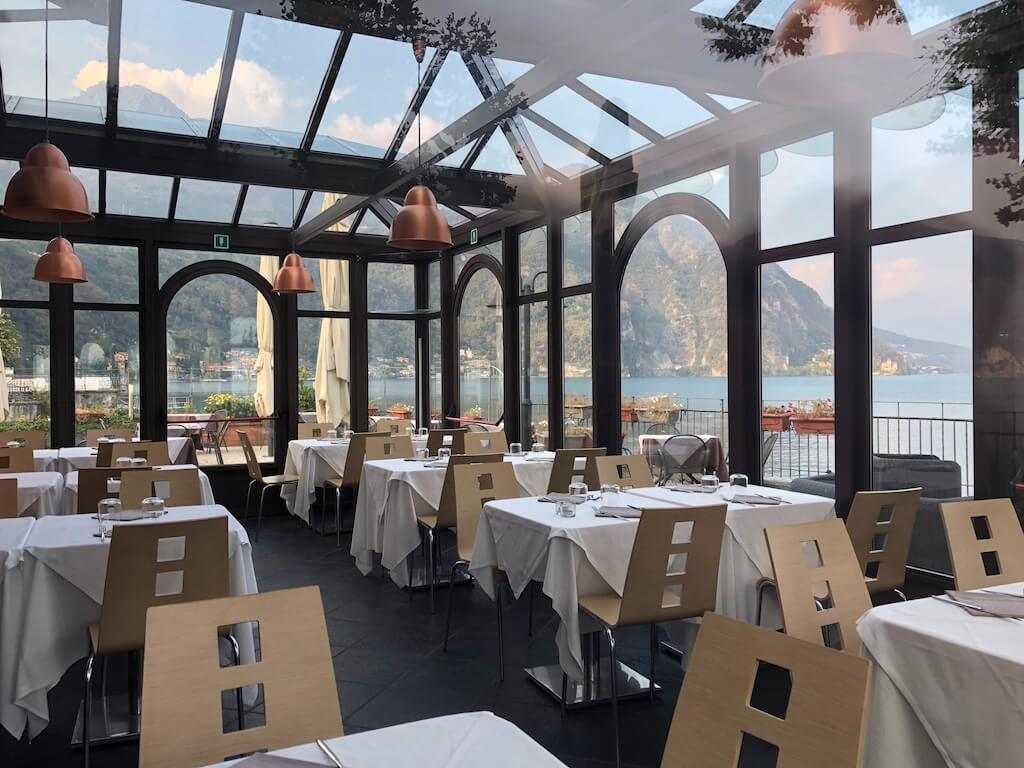 Menaggio Lake Como Weather 
The climate in Menaggio is continental. Winters are frigid, and summers are scorching. The best period to visit Menaggio in Italy in September. The weather is fine, and there is little rain during this time. Menaggio's average temperature in July is 23°C, and the average temperature in January is about 3°C. Menaggio experiences 152 days of dry weather per year, an average humidity of 77%, and a UV index of 3.
Menaggio's warm climate results from the ventilation provided by the lake's winds. The Pre-Alps offer a lovely backdrop, and the region's ideal sun exposure stimulates the growth of unexpected and exotic southern Mediterranean flora.
Menaggio to Bellagio Ferry 
The speediest way to get from Menaggio to Bellagio is by ferry, which takes 15 mins. Menaggio to Bellagio is connected by a direct ferry that operates every day throughout the year and departs four times a day during the season. Check the ferry schedule from Menaggio to Bellagio.
Menaggio to Varenna Ferry 
The speediest way to get from Menaggio to Varenna is to take the ferry from Menaggio, which takes about 15 mins. There is a direct ferry that travels from Menaggio to Varenna. Connections run continuously and depart every four hours. Check the ferry schedule from Menaggio to Varenna.
What is Menaggio Known for? 
The historic centre of Menaggio village, which has ancient beginnings, is home to a wealth of significant creative legacy that may be explored via an engaging itinerary.
Due to its crucial location, this old village was once a gleaming commercial hub and a reference for the nearby communities (at the outlet of the Menaggina Valley, which connects the Lario to the Ceresio).
This area has evolved from a business hub to a significant tourist destination over the years. The village of Menaggio is renowned for its food, wine, and craftsmanship and its historical, cultural, artistic, and natural legacy.
Nearest Airport to Menaggio, Italy? 
Lugano Airport is the closest airport to Menaggio. Other airports are Milan Linate Airport, Milan Malpensa Airport, Bergamo's Orio al Serio International Airport, and St. Moritz Airport.
Regardless, after landing, one can travel to Menaggio by hiring a car, hailing a cab, or using shuttle bus services to get to the nearby train stations. 
How do you get to Menaggio, Italy? 
Menaggio is easily reached using the ferries from Como, and during the summer period, also from Lecco, taking the boat to Bellagio and then boarding the one to Menaggio. You can also get to Menaggio by car via Como or arriving from Switzerland and Lake Lugano.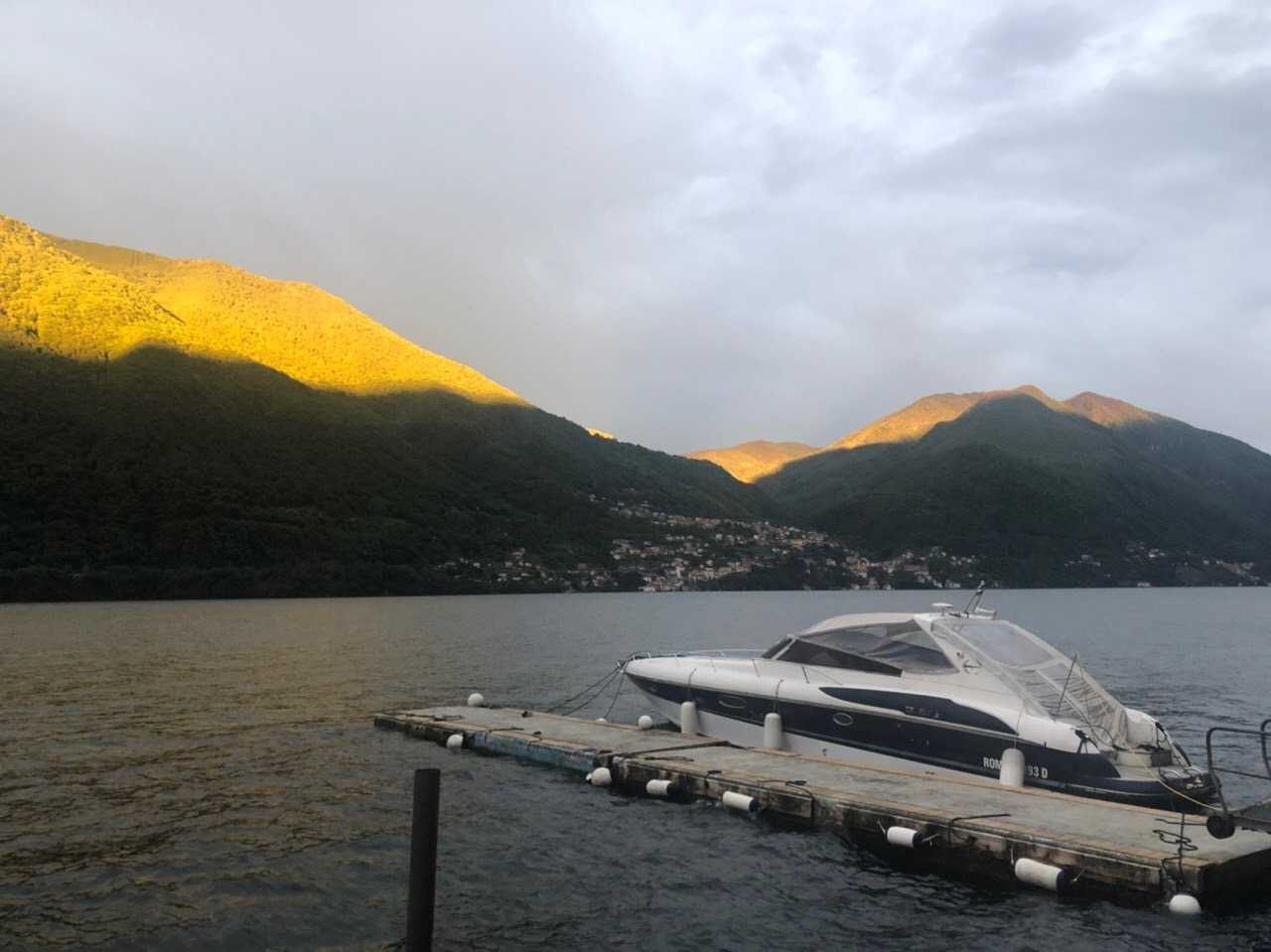 Transfers from Milan Airport to Menaggio
For a long time, Milan Airport Transportation Company has focused on providing transfers from Milan Malpensa Airport to Menaggio. Depending on your needs, the company offers door-to-door transport from Milan Malpensa airport to Menaggio using upscale vehicles, vans, minibuses, and buses for large groups. By choosing the departure and destination on the website in the section on Milan Taxi Prices, you can receive a free quote for your transfer. 
The costs of the transfers are among the most affordable on the market. The prices are secured and fixed per trip and vehicle, all-inclusive, and independent of the distance travelled and the route used (unlike public taxis). Book your Transfers Milan Malpensa Airport To Menaggio, Lake Como, in advance. 
How to get to Menaggio by train? 
There is no train station in Menaggio. The nearest railway stations are: Lugano (27 Km), Como (30 Km) Varenna Esino (4 Km). You can take a bus or ferry from these towns to reach Menaggio. 
How do you get from Menaggio to Bellagio? 
To go from Menaggio to Bellagio, you have two options. The cheapest and the fastest is to go by ferry (with a car or as a foot passenger). The other option is to go only by car, driving to Como and then to Bellagio. This trip from Menaggio to Bellagio through Como takes about two hours. Therefore, taking a ferry and avoiding a long journey through narrow and winding roads makes sense.
How to get from Menaggio to Lugano?
If you want to go from Menaggio to Lugano, you have two options: the cheapest is to go by bus, and the shortest is to go from Menaggio to Lugano by car, which takes about 33 minutes.
Is Varenna or Menaggio better? 
Every village in Lake Como has its own charm. Varenna and Bellagio are very small compared to Menaggio. Varenna and Bellagio have become extremely popular in past years, and in the high season, the streets of these villages are overcrowded. Menaggio is a bigger town with more roads and squares, offering more space. Menaggio is also the liveliest, offering more services: here, you can find many restaurants, shops, supermarkets, and Lido di Menaggio (a public Menaggio beach with a swimming and lounge area). A short distance from Tremezzo, and Lake Lugano, the town is connected by main roads. 
The ferry is for sure the best way to get between Menaggio, Bellagio, and Varenna. Ferries are frequent, arriving in each town at least once an hour in the high season. 
---
Related articles:
Love at first sight: 10 Best Photos from Lake Como
Seven Books about Lake Como to Buy on Amazon
Seven Interesting and Quirky Facts About Lake Como
The Most Instagramable Hotels on Lake Como
Sign up for COMO LAKE Today newsletter.