Presents from Lake Como: The Best Acqua del Lario Products to Give This Christmas
Aroma is a great way to bring home the scent of Lake Como with a candle or fragrance diffuser. Gifting a fabulous candle this holiday season is an excellent idea to get a little piece of Lake Como to your loved one. 
Whether you prefer traditional fresh scents such as cinnamon and cloves or a more modern take on festive fragrances like mango or summer spritz, there's a Christmas candle for every taste. 
Here is our Acqua del Lario Products list to give for the 2022 holiday season. 
LIMITED EDITION WINER CANDLES
As the cold season arrives, the lake becomes silent and gives way to the forest's sounds and the sound of maturing of pumpkins and chestnuts. That inspired the creation of "Canto del Bosco", the first winter Limited Edition candles by Acqua del Lario. As the cold gets bitter and the pine tree spreads its scent, Bianca Brina makes her appearance and brings that same scent into our homes.  But then the villages get festively decorated, and Dolci Riflessi, the deep red candle, recalls childhood with its notes of pepper and ginger. The candles are offered in a refined package with gold silkscreen printing, each accompanied by a small decorative postcard. 
COMO 500ML LUXURY GIFT SET 
Elegant, sophisticated, but also festive and sparkling: this fragrance creation was inspired by the city of Como. The sweetness of pears and figs, combined with the crackle of nutmeg and cinnamon, prolongs the joy of festivities throughout the year. Maintaining the "Como" and "Made in Italy" tradition, craftsmanship and attention to detail, the extravagance is also transmitted by the gift box: made of exceptional elegance, customised with silver screen printing, it guarantees a sophisticated effect. Furthermore, the packaging is entirely handmade, carefully placing each element. 
Formats: 250ml and 500ml.
Acqua del Lario COMO Luxury Gift Set
VENTONE 100ML
VENTONE is an intense Eau de Parfum capable of cooling the hottest fires like the wind that blows impetuously over the lake in spring. Its citrus notes are accentuated by grapefruit and bergamot, and the patchouli and pepper make them particularly bold.  The perfume is submerged in a totally black box with essential lines, silver screen printing and hermetic closure. 
Available sizes: 15ml, 50ml, 100ml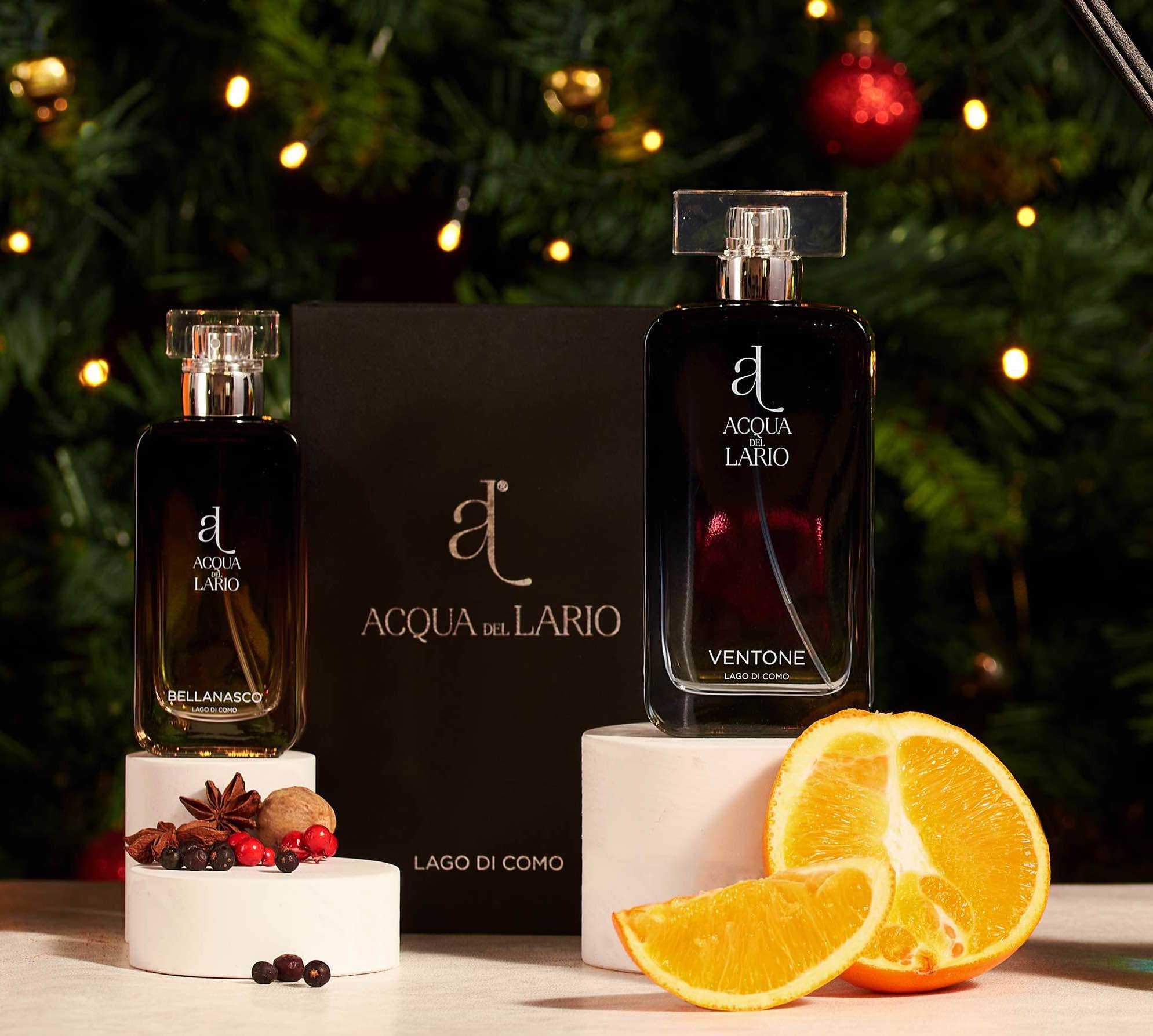 BELLANASCO 50ML
BELLANASCO evokes those sensations only a Lake Como's breeze conveys, especially in the evening hours on the hottest summer days. A spicy Eau de Parfum with an exotic and mysterious charm. It starts with the vibrant notes of pink pepper, grapefruit and nutmeg and then delves into the warm heart composed of sandalwood, cedar leaves and basil. The perfume is accompanied by the black and silver casket, the brand's iconic and distinctive element.
Available sizes: 15ml, 50ml, 100ml
TORNO 250ML
This fragrance was inspired by TORNO, the picturesque village on Lake Como, a hidden gem that not everyone knows but should discover. Inside, lavender meets the heady, fresh notes of bergamot and lemon to create an essence with a brilliant character, a concentration of freshness and candour. In addition to the Luxury Gift packaging, the Acqua del Lario perfumers also have minimal and refined packaging that combines the sober elegance of black with clean graphics. The total black case encloses the cotton fibre wicker.
Formats: 250ml and 500ml.
Photos: Matteo Pappalardo
---
Related articles:
Christmas Gift Ideas Made on Lake Como
COMO LAKE Today Teams Up with AQUADULZA To Launch Silk Scarf
Fairy Tale Atmosphere: Christmas Decorations from Bellagio
Christmas and New Year on Lake Como: The Ultimate Guide
Sign up for COMO LAKE Today newsletter.