COMO LAKE Today Teams Up with AQUADULZA To Launch Silk Scarf
Online Magazine COMO LAKE Today and AQUADULZA team up to launch an exclusive collaboration with a charitable commitment.
COMO LAKE Today, the classy guide to the best experiences on Lake Como, has announced the release of its first accessory – a dashing silk foulard, created in collaboration with AQUADULZA, a luxury fashion silk producer from Lake Como.
The foulard is made of smooth and shining silk twill, produced in Italy, in Como, using the local traditional silk savoir-faire.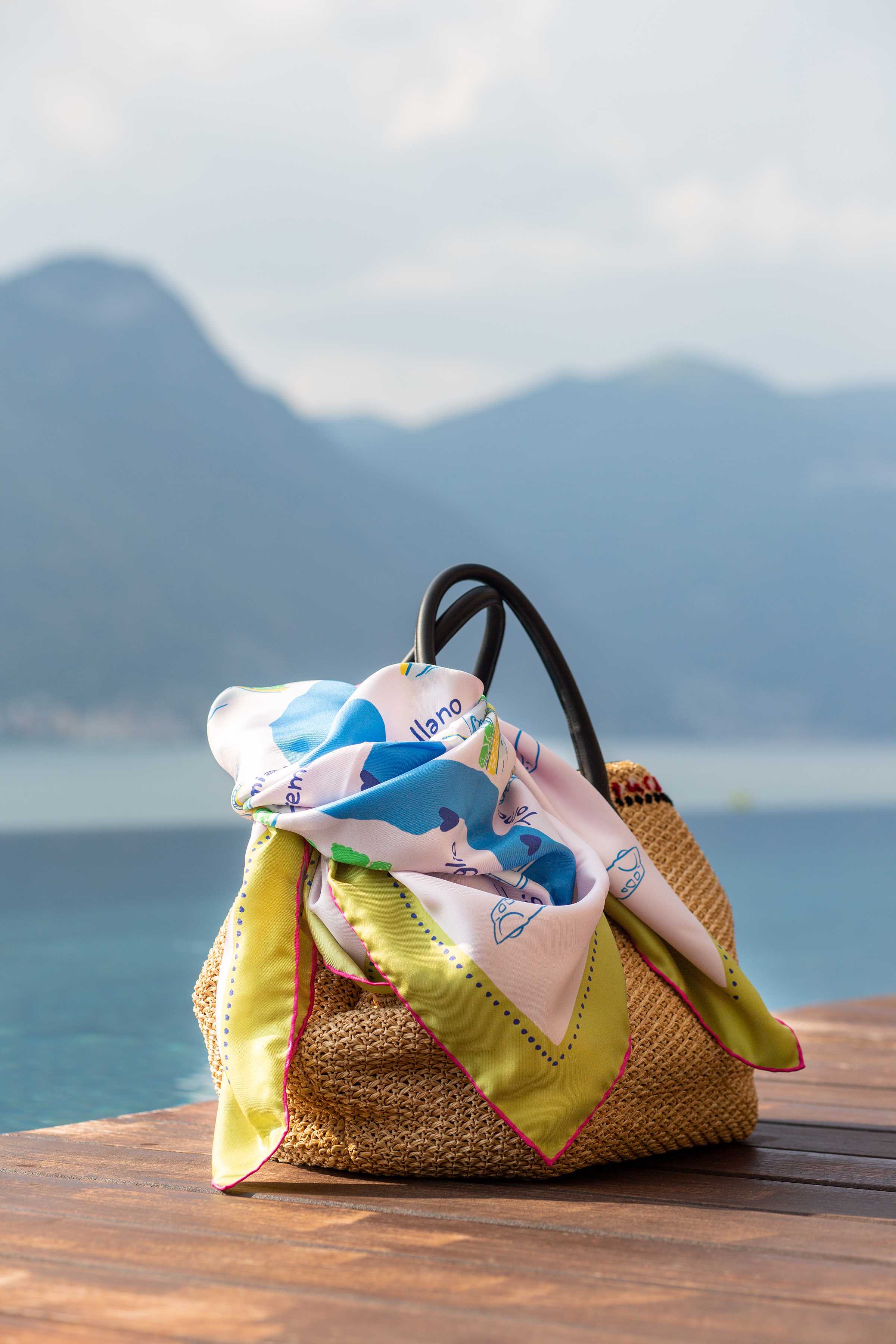 The design consists of vividly coloured and playful patterns selected by Elena Markova, founder of COMO LAKE Today and transformed into print by illustrator Iryna Vale. Iconic towns and villas of Lake Como have been reimagined in an authentic style, keeping their original outline. The colours echo the lake's pallet: pink for the camelia, rhododendron and oleander blooms, blue for the water and the sky, and green for the trees surrounding the lake.
"I was thrilled to work on this project with a charitable commitment. I wanted to create a glamorous, fun scarf that brings a touch of Lake Como. I'm grateful to AQUADULZA for this great opportunity", – says Elena Markova, founder of COMO LAKE Today.
The silk foulard offers natural softness and toughness, recreating the effect of the soft touch of the summer breeze on the lake. The foulard is available in two sizes – 70x70cm and 45x45cm. The COMO LAKE Today X AQUADULZA foulard can be worn in multiple ways and is a perfect accessory to complete a jovial and elegant look.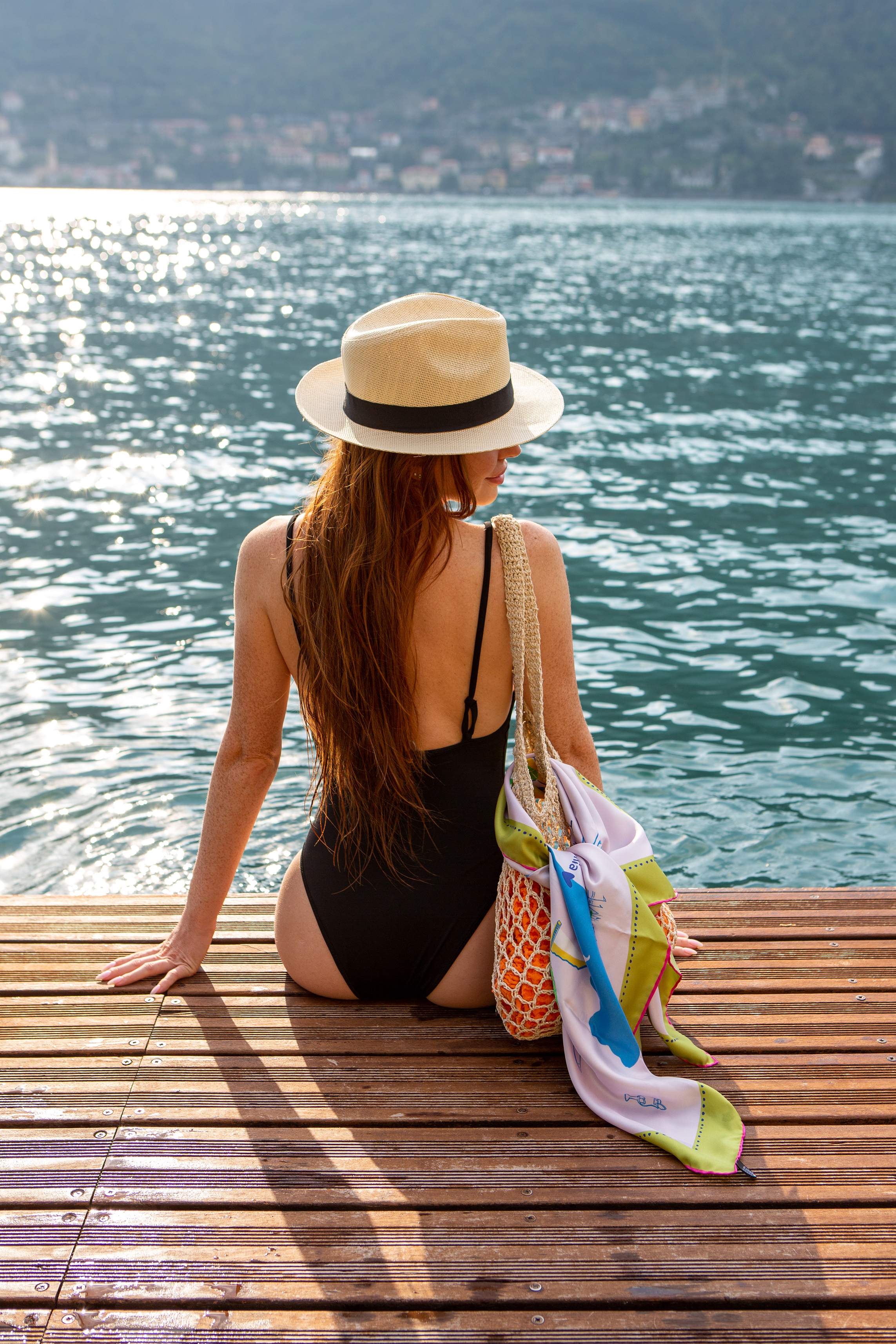 The COMO LAKE Today X AQUADULZA foulard is available online at the AQUADULZA store, and in De Comm shop in Como.
Part of the sales proceeds will be donated to the Tabletochki Foundation aimed to help children in need.
We invite you to support this initiative and make your contribution.
---
AQUADULZA
AQUADULZA is a young brand started at the beginning of 2020 by the Albonico brothers. Their knowledge of the Lake Como region and the job expertise in the silk industry encouraged them to create a fashion brand strictly devoted to "Made in Como".
IRYNA VALE
Iryna Vale is a Ukrainian sketch artist who specializes in drawing playful illustrations. She draws mainly digital pictures in bright colours. She has participated in 28 exhibitions in Ukraine and Europe. Her works are displayed at the 59th International Art Exhibition of La Biennale di Venezia.
TABLETOCHKI FOUNDATION
Tabletochki is the biggest charity helping children with cancer in Ukraine. During the war, the Foundation has been supporting children's hospitals in Eastern Ukraine and also helps Ukrainians in the occupied territories.
---
Related articles:
Seven Advertising Campaigns Set on Lake Como
Love at first sight: 10 Best Photos from Lake Como
Seven Books about Lake Como to buy on Amazon
Seven Interesting and Quirky Facts About Lake Como
Sign up for COMO LAKE Today newsletter.