The Lake Como region is very popular for tourists to visit. It offers unique and incredibly beautiful scenery with ancient architecture, luxurious villas, and an abundance of delicious food as well as a friendly and cheerful atmosphere. The history of this region also attracts travellers from all over the world. So, how can you get to this picturesque lake? What are the best routes?
Where the Lake Como is located?
The lake is located in northern Italy at the foot of the Alps, 40 km from Milan. The easiest way to get there is from Milan, Lugano, or Bergamo. There are several airports in the vicinity: Malpensa and Linate in Milan, Orio al Serio near Bergamo, and the fourth one near Lugano in Switzerland. Lugano Airport is located in Switzerland, but it's less than an hour's ride to Como. Or, you can easily get to Como by train from Milan, Bergamo, Rome, Venice, Florence, or Verona.
How to get to Lake Como from Milan by train?
Between Milano Centrale train station and Como's main station (Como San Giovanni) there are direct trains that arrive every hour at the station. The trip will take about half an hour. Also trains go to Como from Garibaldi railway station. Como has also another station, Como Nord Lago. It is located right on the waterfront of the city. This branch runs regional trains. The trip takes longer (about an hour), but the cost of tickets is lower than in fast trains.
How to get to Lake Como from Bergamo?
The easiest option is to take the bus to Milan Central station (Milano Centrale) and then take the train to Como. The train journey from Bergamo to Como will take much more time and effort.
How to get to lake Como by car from Milan?
If you are coming from Milan, you should stick to the A9 motorway, which connects Milan and Como. Note that if you are going to go to the city of Como, it is better to take the exit Monte Olimpino, in this case you will go to the city closer to the waterfront and the center, bypassing the industrial suburbs.
How to get to Lake Como by car from Verona?
From Verona and Venice, take the A4 to Milan and then take the A9. If your journey begins at the airport of Malpensa, keep the path on the highway А336 to the highway A8. On the last move to Milan, and from there head for the A9. From Switzerland, take the A2 road. Roads 342 and 639 will take you from Bergamo to Como.
It is worth noting that the roads around lake Como are old and quite narrow. To quickly get, for example, to Bellagio, it is more convenient to use the car ferries from Cadenabia.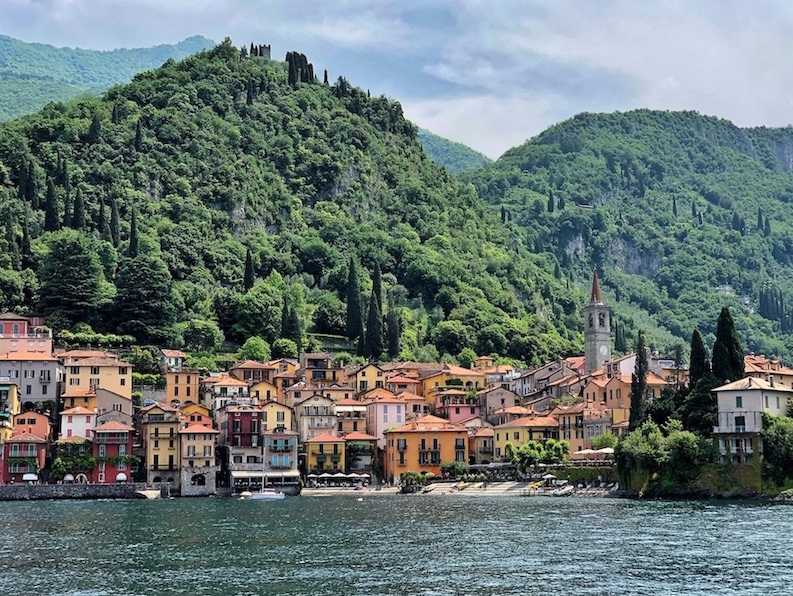 How to het to Como by taxi?
Many hotels offer transfers from the airport. You can use this service and comfortably reach your destination. If desired, you can use the services of taxi drivers who will take you to lake Como from Milan, Lugano and any other city of Lombardy.
Car

 R

ental

 

in Como
Many small and beautiful towns are situated on the shores of Lake Como, but getting there may be tough. One of the simplest options is to rent a car and drive along the coast. Renowned rent-a-car companies offer such a service. It is advised to plan all of this in advance and rent a car upon your arrival at the airport. But if you decide to rent a car when already in Como—it is easy to do. A car rental point is located at San Giovanni the central train station in Como.
Rent a boat in Como
You can rent a boat with or without a driver. Many companies at the lake offer to rent small boats that do not require a driving licence. If you need a boat for travelling and sightseeing, it's better to rent it with a driver who can drive and wait for you while you walk.
Public Ships in Como
Regular boats run between the coastal towns of Como according to a schedule that varies depending on the season. There are also ferries capable of carrying up to 20 cars, but they run only between the following cities: Cadenabbia, Bellagio, Menaggio, and Varenna. In addition, high-speed hydrofoil boats run on Lake Como.