During Christmas and New Year season Lake Como transforms into a magical fairy tale location. Everywhere there are aromas of mulled wine and panettone in the air. What to do on Lake Como on Christmas? How to celebrate New Year on Lake Como? The light festival, Christmas markets, ice-skating rinks, musical concerts, nativity scenes, workshops for children and adults – each village offers a variety of Christmas events to surprise its visitors and to create a festive atmosphere.
From November 23 – Città dei Ballocchi
The most expected winter event with Magic Light Festival, Christmas market, and an ice-skating rink will take place in the very heart of Como.
November 29 – Lake Como Christmas light Christmas lights will illuminate more than 40 locations on Lake Como which can be admired during the evening boat cruises that will be organized from November 30 until January по 6.
November 29 – Opening of the ice rink in the central square of Menaggio.
December 1 – Christmas market in the centre of Argegno. Besides handmade and artisan decorations, the program also includes animation for children, tasting of local products and Christmas treats, Christmas songs and visit of Santa Klaus.
December 6, 7 and 8 – Workshops for adults and children in Villa Carlotta. Handmade decorations and Christmas stories for children alongside workshops for adults. Details can be found on the website of the villa.
December 8 – Christmas market in Cernobbio and inauguration of the floating Nativity scene. Floating Nativity scene, artisan market, Santa's house, Marry Poppins show and lots of other entertainments for adults and children.
December 7, 8, 14 and 15 – Christmas market in Brienno. Children will have an opportunity to visit the house of Santa Claus and give him letters. Adults can join a guided tour to Mina Galleries of the First World War period.
December 8 and 14 – Santa Claus will visit Menaggio. From 10:00 and onwards, both adults and children will enjoy exhibitions, performances, the Christmas market and a quiz from Santa Claus.
December 8 – The Night of Nativity scenes in villa Balbianello. The extraordinary evening opening will be dedicated to the inauguration of the exhibition of Nativity scenes that will take place in the most fascinating locations of the villa – Loggia Durini and Loggia Segre. At 20:30 in the park of the villa will be held a Christmas concert under the stars. After the concert, guests will taste panettone and mulled wine.
From December 8 to February 2 – Christmas scenes in the cave Grotte di Rescia in Porlezza. Grotte di Rescia is a complex of 7 caves, 500 meters long, and the cascade of 70 meters height. Every year, during the Christmas period, the caves are lit up with the festive illumination and decorated with Christmas and New Year's scenes.
December 15 – Launch of balloons with letters in Bellagio. At 11:30 in Civenna (Bellagio) children will launch balloons with letters written to Santa Klaus.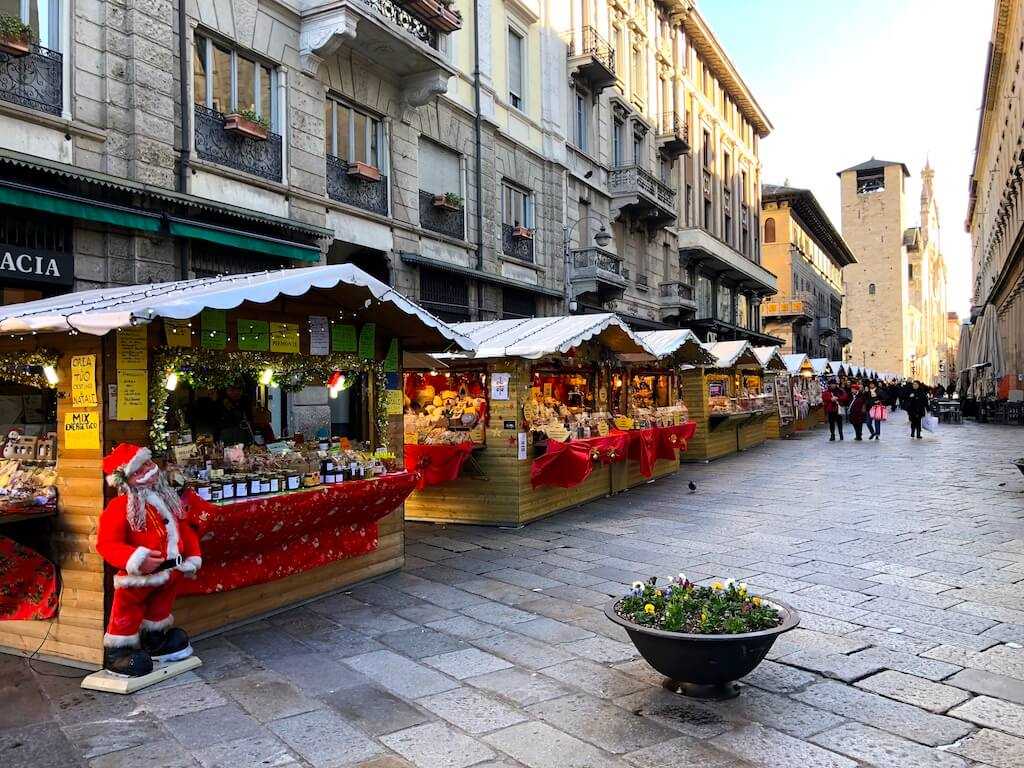 December 20 – Annual Nativity scenes contest in Torno. During a guided tour, guests will visit the historic centre, churches, houses, courtyards, and cantines and see the Nativity scenes.
December 21 – Santa Claus will visit Lezzeno. From 15:30 at the Oratory of Lezzeno a lot of games and activities for children will be organized. At 17:30 Santa Claus will arrive on a Lucia, traditional Lake Como boat.
December 22 – Procession with torches accompanied by Christmas songs and music in Moltrasio.
December 24 – Santa Claus will visit Varenna. Every child will give a letter to Santa and warm up with hot chocolate. At 21:00 in Piazzeta del Prato Al Prato Restaurant will serve mulled wine.
December 26 – Theatre for families in Varenna. At 21:00 in piazza San Giorgio both adults and children can see the theatrical show.
December 28 – New Year concert of Musical body of Loveno in piazza Garibaldi in Menaggio.
December 31 – New Year in Bellagio. At 22:00 residents and guests will say goodbye to the old year with a glass of champagne and live music.
December 31 – New Year in Varenna. From 23:00 in piazza San Giorgio residents and guests will celebrate the arrival of the New Year.
December 31 – New Year fireworks and music show in Como. At midnight the fireworks accompanied by music will be launched from the floating platform.
January 1 – Living Nativity scene in Argegno. According to the tradition that dates back to 1600, 200 participants in the clothes of the time and animals will represent 14 stages of the life of Jesus. The procession will begin at 14:30 with a concert at the Church of the Holy Trinity and will follow the entire route accompanied by the musical orchestra. After the concert, the participants will be offered mulled wine and panettone.
Christmas program for children on Lake Como
From November 30 to January 6, the Museo del Cavallo Giocattolo hosts free creative workshops and performances. A detailed program can be found on the museum's website.
December 1, at 15:00 – A puppet show in piazza Garibaldi in Menaggio.
December 7 – Teatro dei Burattini (Puppet Theatre) in Como hosts a performance of "Old Christmas Tales" for children aged 3 and over.
December 7 and 8 – Christmas stories for children aged 3-5 in Villa Carlotta in Tremezzo.
December 13, at 14:30 – Workshops for children in piazza Garibaldi in Menaggio.
December 14, at 14:00 – Christmas Scarecrow workshop in Varenna.
December 14 – Workshop in ArcheVita art studio for children of 5-10 years. Participants will create Christmas scenes using stones and paints.
December 14 – Workshop in Tree Lab art studio for children of 3-8 years. All the participants will take part in the creation of a Christmas story with the help of improvised materials.
---
Alena Klimtsova | Author, Translator, Interpreter
Alena Klimtsova lives in Como and travels a lot around northern Italy.
On her Instagram @alenaprocomo Alena shares her amazing findings, breath-taking views, and hideaways in the Como Lake area. If you wish to have advice on your travel or you would like to have customized itinerary around Como and the Valtellina valley please write to Alena to 
alena@klimtcov.com
 to have more information