Best Beaches in Lake Como, Italy
Lake Como, a paradise nestled in the picturesque landscapes of Northern Italy, is known for its breathtaking beauty and serene ambience. Lake Como offers a haven for travellers seeking a refreshing escape. In this article, we will take you on a journey to explore the best swimming spots and beaches that adorn the shoreline of this magnificent lake. From charming Lidos (Lake Como Beach Clubs) to secluded coves, discover the perfect places to dip your toes, bask in the sun, and savour the delights of this iconic Italian destination. So, grab your swimsuit and dive into the wonders of Lake Como's aquatic treasures.
Lido Villa Olmo
The Lido Villa Olmo is a historic beach resort overlooking the first basin of Lake Como, owned by the Municipality of Como. The Lido is located within the beautiful park of the homonymous villa. The shore has sun umbrellas and loungers on the lakeside beach level. On the north side, a private area is exclusively for adults, featuring gazebos and a whirlpool. The cabins, showers, and facilities are also available here, along with a kiosk bar. The Lido Villa Olmo has always been a landmark for the people of Como and is highly popular among tourists.
Lido di Moltrasio
The Lido di Moltrasio and its small beach are located in the picturesque town of Moltrasio, just a few minutes' walk from the ferry dock. Locals and tourists love this place for its unique charm and atmosphere. Here, you can swim in the lake and even go scuba diving. Afterward, you can try traditional Italian dishes at nearby restaurants.
Lido di Ossuccio
The Lido di Ossuccio is located directly on the lake, has recently been reconstructed, and has a separate swimming area. A large green lawn surrounds everything with olive trees and oleanders. Upon arriving in Ossuccio, the centuries-old Gothic bell tower marks the destination of the location. At the Lido di Ossuccio, you can sunbathe directly on the lakefront in front of the splendid Isola Comacina. It is also possible to rent the entire structure for a significant event. There are events like happy hour, DJ sets, and parties every weekend.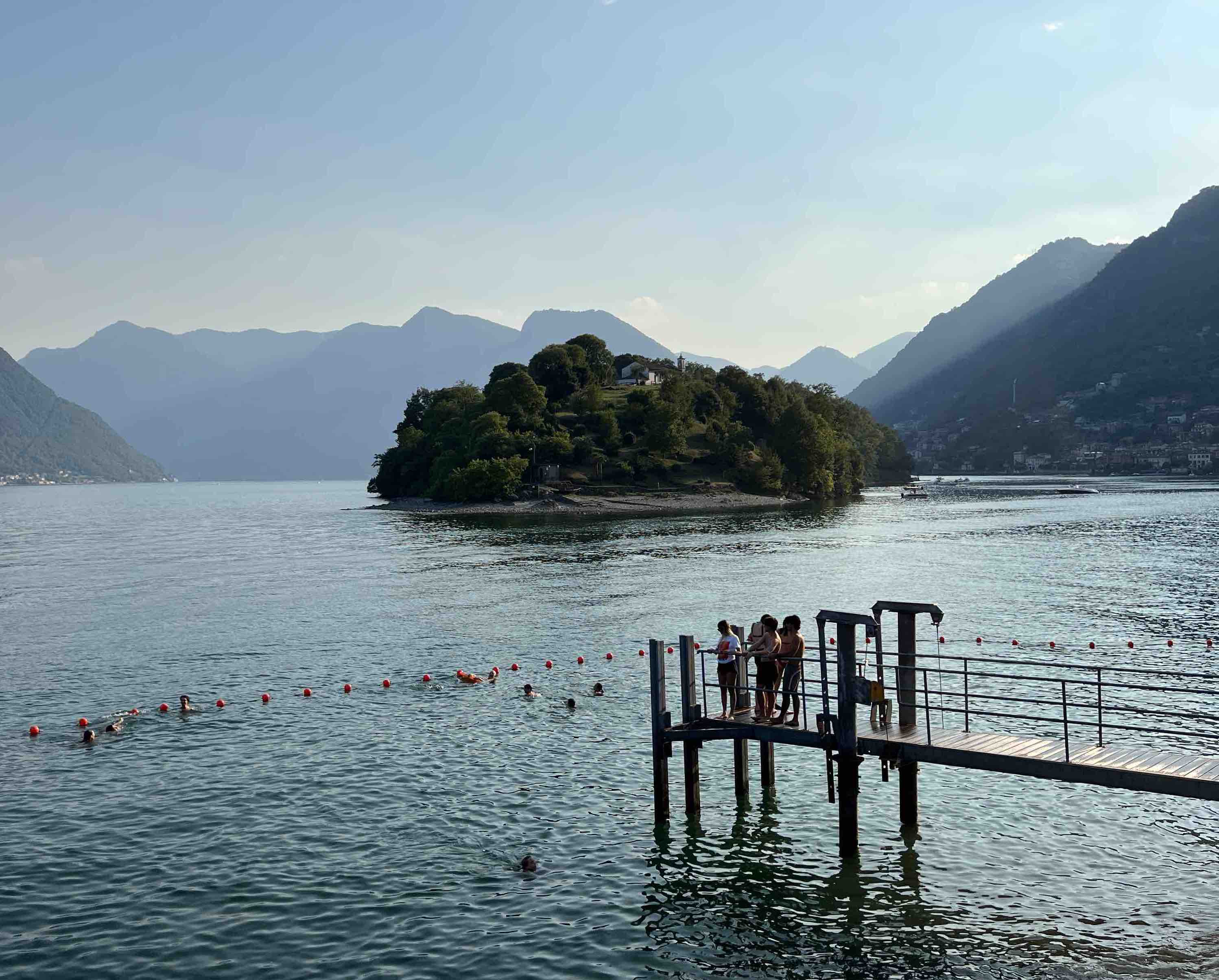 Lido di Lenno
This spacious beach is located near the centre of Lenno. Lido di Lenno beach is well equipped with sun loungers, a staircase for easy access to the water, showers, and lockers for personal belongings. Guests can also access a restaurant, a bar, and parking facilities. Here you can also rent a boat. Nearby, there is a boat station where taxis depart to Villa Balbianello.
Lido di Faggeto Lario
A relaxing spot with a bar and its own beach. Faggeto Lario Lido is ideal for those looking to unwind after a long walk. The beach has a cosy terrace, sun loungers, and umbrellas, with a nearby food court area. It's a favourite weekend destination for locals, attracting those seeking the comforts and amenities of a beach complex and romantics who want to enjoy sunsets surrounded by nature.
Lido di Menaggio
Lido di Menaggio is one of the most frequented and beloved beaches on Lake Como. Equipped with a private beach and solarium, it offers sun loungers, umbrellas, gazebos, and a snack bar service.
Lido Beach offers the following amenities: a swimming beach with direct lake access, changing cabins, shower facilities, a kiosk bar serving breakfast, light lunch, and aperitifs, relaxing lounge area with a view of the lake.
Lido di Varenna (Olivedo)
Olivedo Lido, located near Varenna, is a modern beach capturing the timeless essence of Lake Como's eastern shore. The Olivedo Lido is a perfect venue for a peaceful escape from the city, surrounded by majestic lake waters and towering mountains. Beyond the pristine beach is a bar and restaurant—a haven of relaxation and an exciting music and entertainment hub. Thanks to a private mooring dock, the Lido di Varenna is also accessible by boat.
---
Related articles:
Swimming in Lake Como: Discover the Best Beaches and Lidos
Lake Como Weather: When to Take A Journey
Lake Como Italy: Best Things to Do and To See
3 Outdoor activities to try once in a lifetime on Lake Como
Seven Interesting and Quirky Facts About Lake Como
Sign up for COMO LAKE Today newsletter.